Tangle-Inspired Botanicals: Mixed Media by Sharla R. Hicks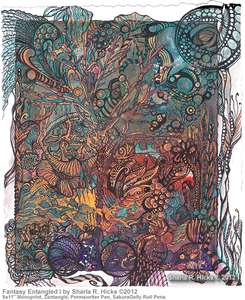 Fantasy Entangled
Tangle-Inspired Botanical Mixed Media Monoprint. Sharla teaches creative thinking using visual vocabulary that helps intuition inform composition and design.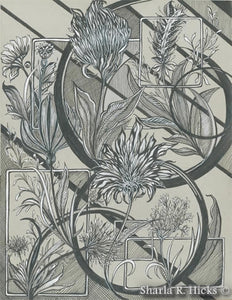 Surrounded, 2020
Tone on tone line work is a key skill taught in Sharla's classes as you learn to use value, shade, and shadow to create exciting work.
Spring Blooms
Sharla shares her expertise in mixed media to develop layer upon layer using paint, pen and ink, color pencils, color pens, pastels, and more.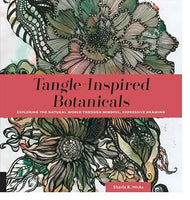 Tangle-Inspired Botancials by Sharla R. Hicks
Tangle Inspired Botanicals by Sharla R. Hicks, CZT is a 128 pages of inspiration that focuses on simple mark marking, repetitive patterning, familiar tangle strokes, and inspirational nature photography that invites mindful focus, relaxation, and creativity that helps you tap into your inner artist. Be inspired to dance with petals and leaves, expressive lines, shapes, and strokes that morph and evolve into curvaceous petals and blooms, patterned leaves, bending blades of grass, and Reeds & Weeds ... each dancing to your unique style of creative expression.
More Info